Digital Darkroom Workshop at Palm Beach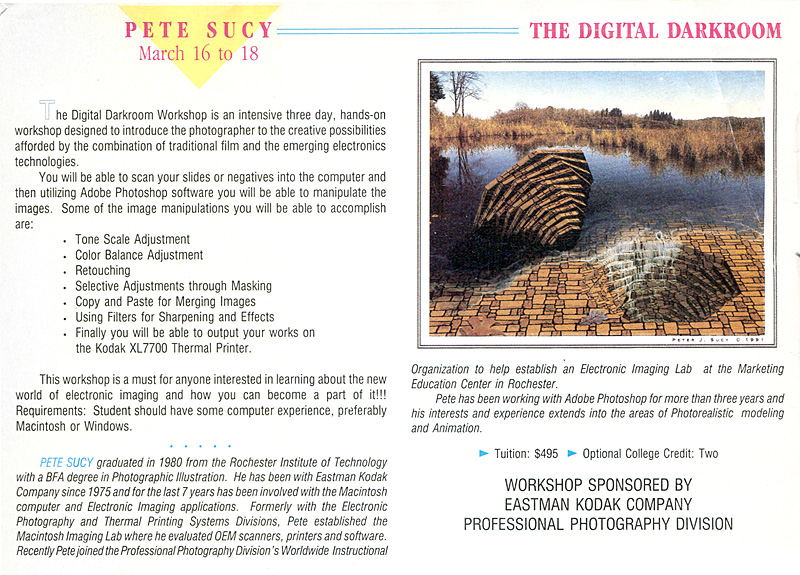 Persuasion
The manager of Instructional Operations approached me and asked me if I would design some Persuasion templates for the group. I'd shown him a presentation on Hard Copy output that I had designed for Thermal Printing for which I had designed a division look for the templates, so I guess it was my own fault. I didn't mind the challenge of designing the templates but the second part of the request was that I begin teaching classes on using PowerPoint to everyone on the staff. I was becoming known as the Macintosh wizard and Digital Photography Guru throughout the company and felt my talents were being wasted.
Moving to Marketing Technical Support
As a result, I was not particularly happy working in Instructional Operations, I really liked the people I worked with, many were photographers like me. However, I was not accustomed to being micromanaged. Previous supervisors had just turned me loose to work on things I felt were important. Training field personnel had become a bit tiresome. I missed the interactions like I'd had at the Palm Beach Workshops, we had a few visits by . I'd been hired with the promise of working at CCI with customers/photographers. That was never going to happen now. I felt I'd been played in a bait and switch and told my supervisor I wanted to move on.

Marketing Technical Support was the PPD's field support organization. They were looking for a technical specialist with applications experience to support the XL7700 and XL7720 printers. Few people could fill that role better than myself, so I was told I'd be able to escape IO and return to the technical side the following spring. Still with PPD but working with friends from the EPD days. It was a great team of people to work with.