Dear Friends,


Welcome to issue #3 of the Peter J. Sucy Digital Arts Newsletter!



Upcoming Show - April 2012

I was beginning to think I'd never get my work output as 3D lenticulars. However, it is actually, finally happening. A new gallery is opening in Rochester this spring and I signed on to be one of the first featured artists. The new gallery is called the Arete' Gallery and will be located at 663 N. Winton Road, Rochester, NY 14609. This is centrally located between Brighton, Irondequoit, Cobbs Hill, Park Ave and a few miles from Pittsford and is said to be a very high traffic area. My hope is to get some good first exposure through the gallery opening and the attending publicity. The Grand Opening Reception is on Saturday, April 28th starting at 6:00PM. I hope you will come out to see the show.

Optimistically, I hope is to have four lenticular pieces from my Virtual Visions series ready in time for the show. It all depends on how many of the LED backlit display frames, (which I designed) can be crafted by my brother before then. The images I'm currently thinking of showing are "PhotoFlo", "Smoke and Mirrors", "Church Ravens" and "Nightstalker". These cover some of my themes and represent works from different stages of my career. Still there were quite a few others I would have liked to have shown as well. Some are just waiting for printing, so I might change them out after a month for the next show.


Again here is the show information.



Arete' Gallery

663 N. Winton Road

Rochester, NY 14609

Grand Opening Reception
Saturday, April 28th, 2012
Starting at 6:00PM

Regular Gallery Hours:
Monday Closed
Tuesday - Thursday 10:30am - 6:00pm
Friday 10:30am - 9:00pm
Saturday 10:30am - 6:00pm
Sunday 10:30am - 5:00pm

Reception Last Friday Of Every Month For Our Artists: 6:00pm - 9:00pm





On the homefront: Greening Up

Quite a bit has changed in our lives over the past year. Last April I was delighted to learn that a federal judge had overturned the SSA's denial of my disability claim in my appeal. The settlement just showed up in my checking account one day as a deposit by the Federal Treasury. I thought it was a mistake because it was several days before either my lawyer or SS notified me of the decision.

Still, it was a bit of a windfall we've desparately needed. For the past five years we've been using electric and kerosene space heaters to heat just a couple of rooms in the house. It was way past time for a new furnace! However, I didn't want to just replace our oil burner with anotherm. I wanted to get away from fossil fuels completely.

I began researching wind, solar, and geothermal technologies (as well as some "high efficiency" convential furnaces). I had quite a few estimates done and I soon came to realize that if you could only do one alternative energy upgrade, that geothermal was the best way to go. Wind and Solar are sporadic sources, geo energy is constant and it's more technologically mature than the other technologies. The fact that the government was offering a 30% tax credit was another good reason geothermal made the most sense. (For those that don't know what a geothermal system is see "Geothermal Basics" below.)

Sandy is tired of me telling everybody about the geothermal system and showing it off. Still, I got excited when I discovered I could heat and cool the whole house for about as much energy as a refrigerator. Roth Residential, the company that installed the system did a fantastic job. Ruben, who installed the system did the plumbing, electric and metal duct work. A true craftsman who's work I'm proud to show off. OK, that's my green talk, now I can just refer people here. Health update

Personally, as a result of being able to work at my own pace these days and finding the right medications, I've been able to gradually increase the number of hours I'm able to work at the computer during a day. The joint pain, stiffness and fatigue are still there every day but but not interferring as much with my ability to concentrate on a task. Being able to concentrate on a task and short term memory issues have made multitasking as I once did, much more difficult. I still have to be careful not to over do it or the muscle pain will drive me to bed with the heating pad for awhile. Not as bad as it once was but still enough to have an impact on my ability to focus at times. Often after an hour or so of rest with the heating pad, I'm able to put in a few more hours. Fortunately, long rendering times for both the 3D scene rendering and the paint synthesizer mean I can be away from the computers for long periods and still be accomplishing tasks. I just have to check it's progress occassionally.

Back to Lenticular

The biggest benefit of the settlement has been that our financial situation has improved enough that I've been able to begin printing my own lenticular work again. I'd had to put it on hold, again, for a few more years while I was unable to work. I haven't stopped creating images so I have years of work ahead just catching up on the rendering. Until I knew who was going to print the work and their process there was no point of rendering any of the works until I knew how many frames I would need for the lens they would print on.

I decided to use the 40 LPI Microlens 3D lens for the size I am producing. The local printer I had planned to use recommended 18 frames under that lens and his printer combination. That's a lot of frames to render. The printer was unable to give me any displacement guidelines (although he did a proof on one image), so I had to go through the process of testing each of my scenes individually to find the proper camera movement for the 40 LPI lens. To do this I would have to do everything right up to the actual laminating so I decided I might as well do it all, at least for the proofs. The printer that will actually be printing my editions, Softmotion, uses 24 frames so I may render some at 24 frames if it doesn't too long.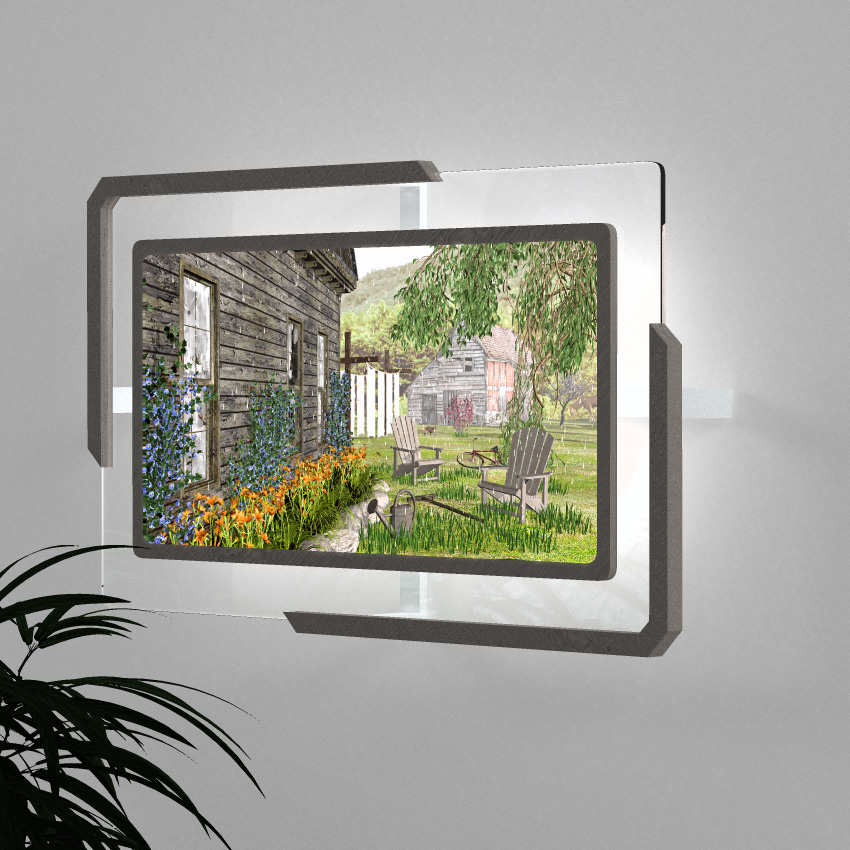 Above are the conceptual renderings of the frames being built.
All images and designs copyrighted © 2012 by Peter J. Sucy. All rights reserved. I plan to to produce an edition of ten (10) transparencies plus 2 artist proofs of each piece in my Virtual Visions series. The sizes are 20" x 10" landscape and 14" x 20" portrait. They will be sold with a specially designed LED backlight display that I designed. The price for a signed and numbered transparency with a backlit display is $2250 for the landscape pieces and $2500 for the larger portrait pieces. A certificate of authenticity will be included. You can place an order through the gallery or directly with me (the gallery takes no commision. 50% deposit required at time of order, the rest due when ready to ship.

I now have an apprentice, Norbert, who's been helping me out. He's a talented 3D modeler who was interested in learning about lenticular. I'm hopeful I'll be able to try doing some art/craft shows like the Clothesline festival this year. I would like to produce some lenticular postcards to sell, since I'm not sure the editions will sell in those venues. They will attract attention though. I'll post updates on any shows that I plan on attending.

Please feel free to pass the link to this page along to anyone you think might be interested, I would greatly appreciate it.

Peter