Art Shows


Over the past year I've begun exhibiting at some major art shows. Last December I exhibited and attended the Miami Spectrum show. It was a massive show and easy to get lost in all that was there. This past April I attended and showed at the NYExpo 2015, at Pier 94. I had good responses when people were able to find me. Traffic flow in our section was severely cut by the claustrophobic space we were in. I'm planning to do it again next year but this time artist Dan Scally and I are going in on a 20 foot wall on a main aisle.

I met Dan last year when we were both showing at the Artisan Direct gallery. We discovered we had quite a bit in common including the fact that Dan, who still works for Kodak, was doing the same job I did in MTS supporting the thermal printers, where as Dan is supporting NextPress.


Dan and I collaborated on a project earlier this year. Dan is a member of the Arena Art Group and they were doing a show based on movies that had an impact on them. Dan came to me with the idea of creating a piece based on 2001: A Space Odyssey, which coincindentally I would probably have picked myself. He wanted to do a 3D lenticular piece centered around the obelisk floating in space. We met twice, I think, but we were already in sync with what we wanted to do. I created a 3D scene in Poser Pro with my Solar System model set. I came up with two versions, but knew which Dan would go with. Below are the two.
I've gradually been feeling better and better of late and I'd like to evenually wean myself off disability, so I can earn some income before "retiring". Last July, I started a new business entity, as I begin to more actively market my artwork and expand into doing 3D lenticular design again. Peter J. Sucy Digital Arts is the DBA for my fine art sales and the new "division" for commissioned 3D design and artwork is called 3D Wizardry Lenticular Design Works. www.3Dwizardry.com
The focus of this service will be on the Architecture, Interior Design, & Museum gift shop markets, as well as providing custom art for corporate buyers and interior/exterior artwork & graphics for the high end Motor Coach and Luxury Vehicle market.
It has become quite a daunting challenge getting the business up and running. What with updating & maintaining over a dozen online sites/galleries, Facebook, fund raising, participating in shows, coordinating the design and the construction of a new studio, as well as my regular household duties, doesn't leave much creative time.
I'd love to do some art and craft shows again, but I really can't go out and do shows by myself. I'd still be exhausted by the time I got everything all setup. It's become obvious that I will need some additional help to grow the businesses. I'm still looking for just the right person to do be my studio manager, do marketing, sales, PR and project management. If you know of someone who may be interested, please send them my way. Potential limited partnership opportunity.
Update on Manufacturing my Multi-Dimensional Display Portals
Although fundraising through Kickstarter and USAProjects failed to provide the funding needed to produce an exhibit of my "Virtual Visions" lenticular series, a recent sale of a large 3D piece to a corporate art buyer, has given me enough to put a downpayment on manufacturing ten of the acrylic displays. I still need nearly double that total amount for the LED panels and printing. Hopefully, a few more sales will come in, however, these ten portals will give me some units to photograph, exhibit and produce the few first orders.
I'm working with a local manufacturer, Faro Industries, to manufacture the displays. They are quite excited about gettng the job and I'm confident they will produce a very high quality product for me to market. I think there is potential to expand the business beyond just providing displays for my work. A number of lenticular artists, photographers and gallery owners have expressed interest in my displays as an alternative to the commerically available light boxes. One of these days I've got to get around to designing some in standard print sizes.
3D Lenticular Limited Editions
I've been workng feverishly to get high resolution renders of my 3D lenticular works from the "Virtual Visions" series completed and have been updating the 3D gallery to allow ordering transparencies from the editions. The ones with Paypal buttons are ready to go. I will continue to add purchase options as I complete the renders for each image. The 3D Virtual Art Gallery is continually being updated with new images as well. Be sure to check it out!
New Studio
Sandy and I decided early in the year to add a two car garage to the house, with a similarly sized space above for my new studio. She would like her dining room back, as well as about 70% of her office, the dining room table which is now in the living room, not to mention my stuff stored in the basement. At barely 1800 square feet the main house is a bit cramped with all my equipment, framed prints, computers, etc. The addition almost doubles the size of the house, if you include the two car garage. Sandy will get a new sunroom and deck, and I will have my own space.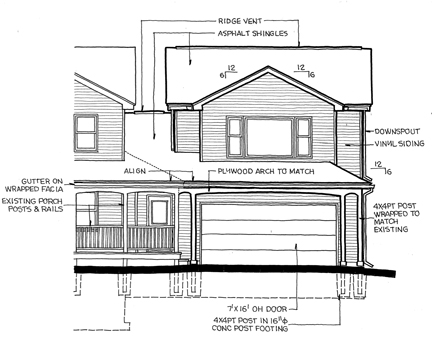 North Elevation
West Elevation
Studio Floorplan
Above the garage, I'll have approximately 560 square feet of space in my new studio. I've digitally modeled the space from the architects plans and have already moved digital replicas of my current furniture into it to see how it will work. There was still plenty of space for more storage and workspace.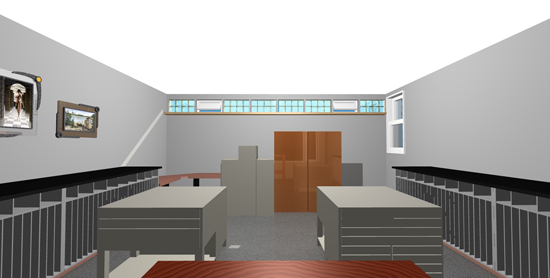 I plan to have my brother, John, build up to four 8ft long cabinets, which will go on the east and west ends of the space. These will not only house framed prints and lenticular transparencies in the slots below, but will also have a cubby row for numerous small & medium plastic containers, while also providing countertop space for my printer, paper cutting station, light table and working space. Brand new five drawer metal or wood flat file cabinets were over $1200 a piece new (without a base), the lowest I could find for used ones was about $600 base excluded. Fortunately, I discovered that Home Depot has Martha Stewart flat file units for $349 & $399 new, with base. They are unassembled and probably not as durable, but they are in my price range.
I've decided to have the builder, put in two rows of glass block near the top of the south wall. Two awning windows will provide some ventilation. This setup, with the addtion of a light colored shelf just below the windows (for my loon carvings, vintage cameras and various other nicknaks) will bounce light towards the ceiling. The eave overhang and the shelf would block direct light in the summer but allow more direct light in winter, when the sun is lower. Along the stairway in the image above are my existing file & storage cabinets. My desk will be tucked in behind the stairway in the SE corner.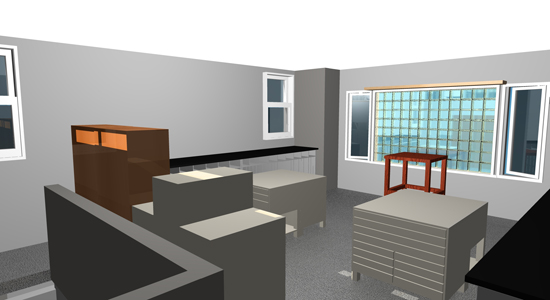 Above is a view from my desk location, behind the stairs, towards the north light studio. I plan to have a large glass block picture window to use for illumination and as a backdrop for my tabletop photography. I plan to put up backdrop paper rolls above the window and perhaps a track system for muslins. I wanted glass block casement windows on either side, but their exorbitant price caused me to forego them in favor of plain casements.
In the center of the room are two islands made of flat files for matte cutting, print lamination, transparency aligment, etc. These can be moved around to create different working options. I will probably go with a neutral gray color commercial carpet, light gray walls and try to keep to all neutrals for optimim viewing conditions for monitors, prints and transparencies.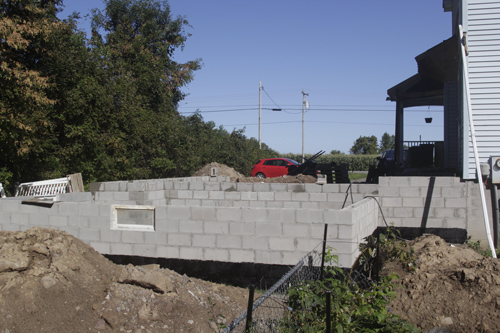 Photo 9/24/2013



Now that I'll have a space large enough, I'm hoping to eventually replace my current desk with a personalized version of myP.O.D. vertical desk design and a zero gravity chair. I can't wait!
Construction began several weeks ago and they hope to complete it by the end of October.
Recent Shows
Currently, I have three lenticular pieces in a 3D Art Group Show at the Sandra Lee Gallery in San Francisco. The show runs through the end of September. Sandra invited me to show, after one of the other artists in the show contacted me about producing some LED displays for his work. Although that never worked out, Sandra had visited my 3D gallery and asked me to send as many pieces as I could. Sandra asked to keep the pieces for a few months, so until I have more displays, I'm pretty limited in participating in future shows.
This year, I also exhibited in a few local juried shows. Last April three pieces were selected for the Rochester Erotic Arts Festival, unfortunately I only had two displays. "Birds of a Feather" and "Night Stalker" were the two I ended up exhibiting. It was also a very interesting festival to attend. In August, my piece, "Church Ravens" was selected by the jury for the Rochester Arts & Cultural Council's Members Show at their gallery on Goodman St.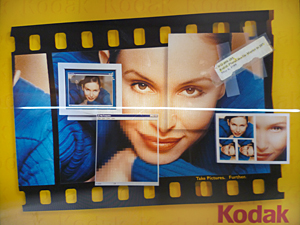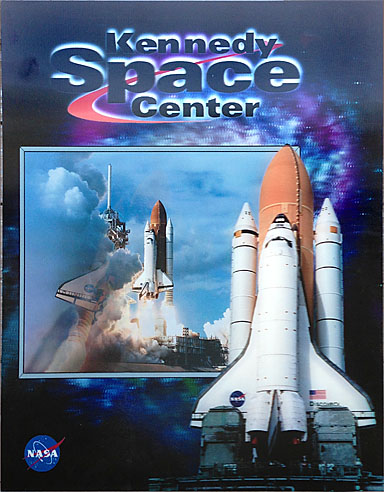 Kodak Lenticular Prints & Transparencies for George Eastman House
Last fall I decided to donate a large part of my collection of lenticular prints, transparencies and cards I obtained when Dynamic Imaging was closed in 2001. Some were fairly large and were just collecting dust and taking up room in our already crowded house.
Kathy Connor, of the George Eastman House, was delighted to receive them, as the collection at present consisted only of a few small cards. The large pieces included advertising pieces for Kodak, Maxwell House, Martell Cognac, Nikko RC Trucks, Purina Puppy Chow and a Martell logo piece I created. There was a large 3D pirate ship, a 3D Space Shuttle poster, and a couple of DI logo pieces I also created. There was also a Spiderman, a Captain America. and a Jurassic Park poster. A few baseball cards with Babe Ruth & Pedro Martinez. As well as some Mars and Mars Rover pieces from NASA and a small lenticular picture frame I created for Disney's Rock n' Roller Coaster ride.
They plan to display a few of the larger pieces in the new Discovery room. My hope is to expose more people to the medium. We've discussed the possibility of hosting a worldwide lenticular art show here in Rochester.
I've also offered them a copy of my scrapbook and CD from the early days of Electronic Photography Division. Probably the only record of how the switch from analog to digital really came about in those early days. Not only does it contain my desktop publshed digital proposals, but product illustrations, system designs, product timelines, protocal documents, user interface designs, Hypercard and Supercard projects. and so much more. They've yet to respond. Personally I think it would make for a great exhibit particularly if we could pull together some of the equipment from those early days. Maybe even have some of it working. Like a SV7500 SVF recorder/player running from my Hypercard Stack on a vintage Mac.
ArtPrice.com & 3d Lenticular Editions
After seeking some art marketing advice, I've opened a number of new reproduction POD (print on demand) sites with a more global focus, Saatchi Online, ArtFlakes (Germany), and most notably ArtPrice.com (Paris, France). Artprice is a bit different, only originals and limited editions may be sold, you also must present documentation of your show history and career, to be listed as an artist on ArtPrice.com. With a storefront you can place ads for limited edition prints and put limited edition prints up for auction. This last is where I hope to begin selling my limited editon 3D lenticular transparencies. Widely used by art galleries and collectors around the world, it should put my work in front of audience I need to reach.
It became obvious after exhibitng in Rochester last year, that I was unlikely to generate any sales locally. Some friends suggested I needed to reach my audience through the big art shows. I signed with Artisan Direct last summer and hope to lease some space in their booth at one of the large shows in Miami, NYC or LA. Typically, these shows run from $1000 - $2000 for a space so I may try to raise funds through crowdsourcing on USAProjects again.
Get a 25% Discount from my Fine Art America Print on Demand Service
Please remember, Fine Art America is sill the best place to view and purchase prints of my work on canvas, seven different papers, on metal, acrylic or as notecards. It is the most comprehensive gallery of my artwork. FAA offers custom matting and framing as well. Check it out! here As an extra incentive, I'm offering a 25% discount on purchases through Dec 23rd. Just in time for Christmas. Enter the following coupon code at checkout, CFANXZ to receive your discount.