My primary medium is 3D lenticular* imaging, utilizing photographic and digigraphic (3D modeling/rendering) to create my 3D "dioramas". To display them, I prefer to produce 3D lenticular transparencies, because backlighting is the most dynamic way to present the medium. This however, meant providing some sort of light source for viewing the transparencies in a gallery setting. Unimpressed with the look of the aluminum light boxes on the market, especially for gallery presentation. I resorted to designing my own displays, using low power, ultra thin LED panels, which would hopefully present my work in more polished and stylish way.
You may view my 3D Lenticular Artwork Gallery Here.
Utilizing an eight millimeter thin, color correct, LED panel which provides nice even illumination of the transparency, the display frame that will hold it is constructed ofacrylic sheet and solid surface materials. A sheet of 3/16" acrylic, 4" larger on each side than the LED panel and image, will create a black, gray or bronze surround, reminiscent of a matte in traditional picture framing.
There are cutouts in the acrylic surround behind the LED panel that align with the heat sinks on the back of the LED panel. The 3D Transparency and LED panel are sandwiched within a very thin, 1/2" wide x 1" high frame or bezel crafted from solid surface material. This bezel is attached to the front of the acrylic sheet with a number of small screws and holds the LED panel and image to the surround. All that protrudes from the back of the display is the thin power cord and the clear acrylic standoff rods which hold the display about 2.5" from the wall when hung.
Going for a futuristic, minimalist look, and attempting to create a fresh framing style, I drew upon the oldest framing devices in the world, our index finger and thumb. You know, like when you hold both hands up to frame something. Therefore, there are corner trim pieces on just two corners of the acrylic surround, as a metaphor for that old convention. It was also a weight and cost cutting decision. The acrylic surround and LED panel are already fairly heavy at the sizes I selected. The Corian and similar solid surface materials are fairly dense and very expensive so are used sparingly.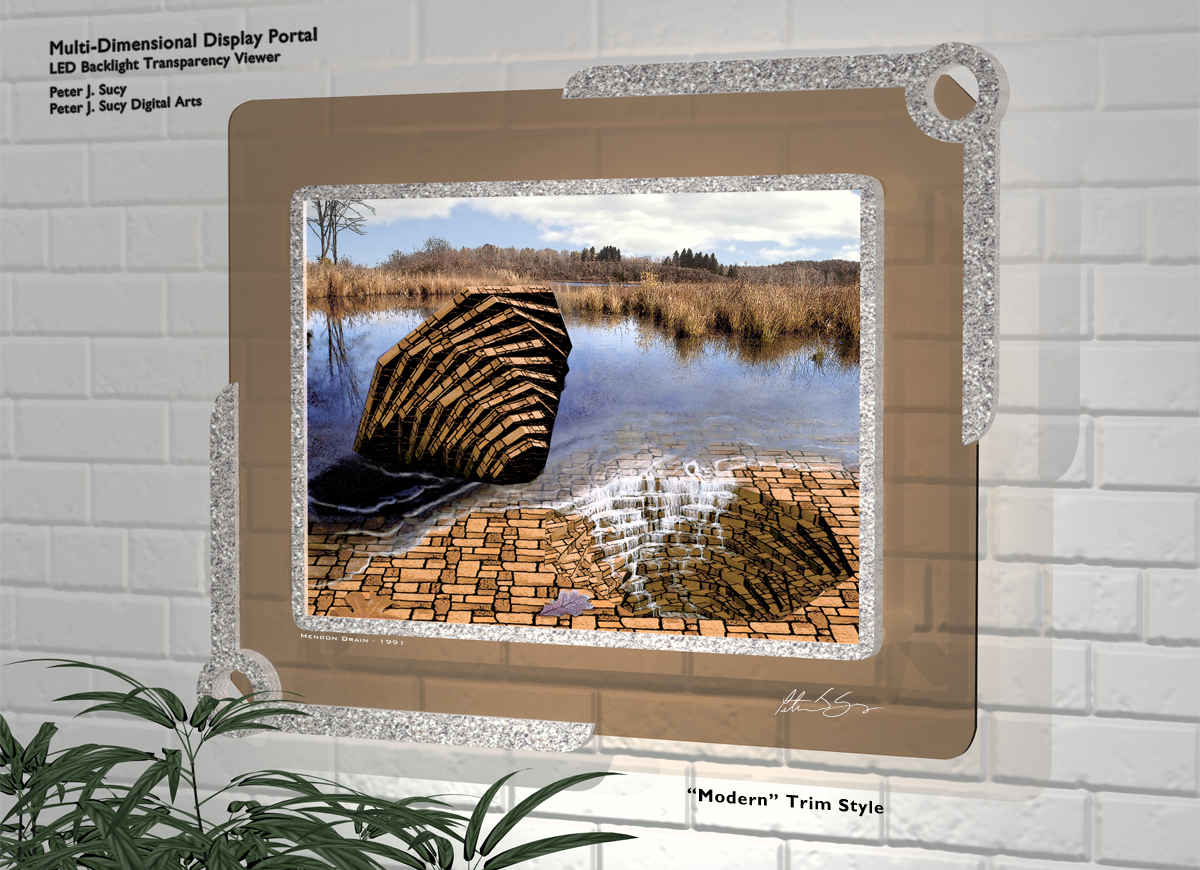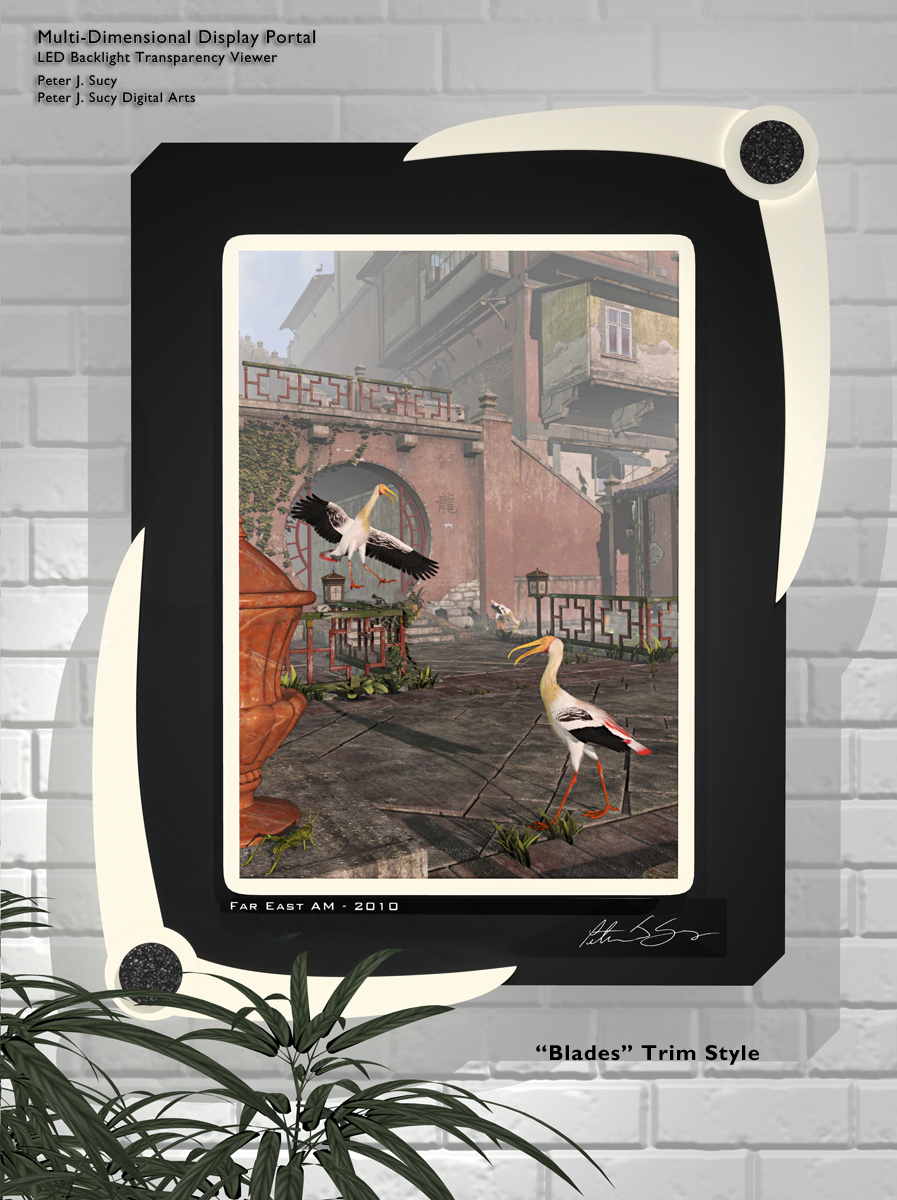 Above are the three designs I finalized on. From left to right, Modern, Blades, and Art Deco.
Clear acrylic standoffs set the display out away from the wall enhancing the overall effect of depth within the piece and encouraging people to look behind the image. All they will see though, is the small cord coming out of the acrylic backing and the standoffs.
Currently, two sizes are being produced. One for my 14" x 20" 3D transparencies (landscape or portrait) and another for my 20" x 10" Cine 3D transparencies. There are three different trim styles, Modern, Art Deco, and Blades, which are initially available in Bone white, Mount Blanc, gray, a granite look, or Fantasia, a black granite with white and multi-colored flecks. Below are actual photos of the first three displays I've put together.
I believe the result is a Multi-Dimensional Display Portal (or transparency illuminator) that is unique and looks like it belongs in a gallery setting. Lenticular Artists and Photographers, consider backlighting your work for greater impact. We can produce displays in other sizes to meet your needs. Please contact me for a quote. Trims and image bezels can be made from any Corian or similar 1/2" countertop material. To avoid the expense of purchasing entire sheets we try to use shorts or leftover pieces. To build the frames above, the pieces need to be at least 15" x 22". We made the arm lengths such that they can be cut from the space within the image bezel, reducing the waste. I suggest you browse www.solidsurface.com to find a material you want to use first. There is a one-time design fee for unique designs & sizes other than the current two sizes.
Art Deco 20" x 14" Landscape Display in Mount Blanc Corian and Black Acrylic, shown here without LED panel or transparency.
Note slots for cooling.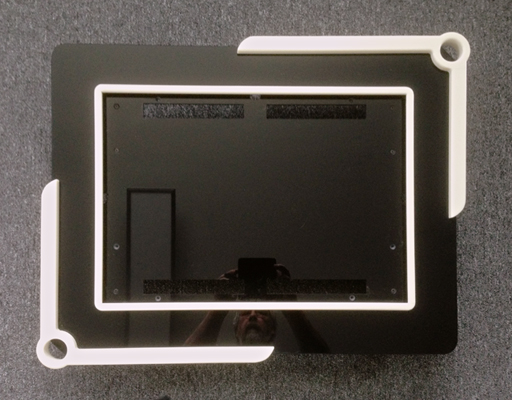 Modern 20" x 14" Landscape Display in Bone Corian and Black Acrylic, shown here without LED panel or transparency.
Overall Dimensions of the Two Current Sizes:
14" x 20" Transparency Display Portal is: 21.5" x 27.5" x 2.5" D
20" x 10" Transparency Display Portal is: 27.5" W x 17.5" H x 2.5" D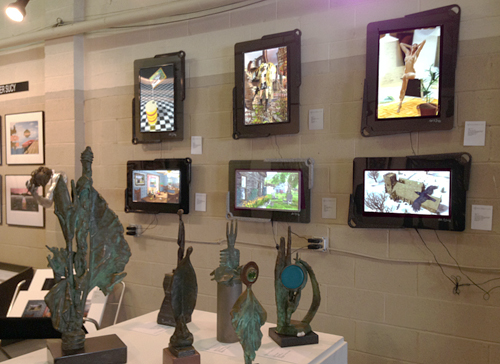 Here are six of the finished displays hanging at the Artisan Direct Art Space in Rochester, NY.
* Lenticular printing is a process that allows glasses free viewing of 3D images.