My primary medium is 3D lenticular* imaging, utilizing photographic and digigraphic (3D modeling/rendering) to create my 3D "dioramas". To display them, I prefer to produce 3D lenticular transparencies, because backlighting is the most dynamic way to present the medium. This however, meant providing some sort of light source for viewing the transparencies in a gallery setting. Unimpressed with the look of the aluminum light boxes on the market, especially for gallery presentation. I resorted to designing and building my own backlit displays, using low power, ultra thin LED panels, which would present my work in more polished and stylish way.
You may view my 3D Lenticular Artwork Gallery Here.
INTRODUCING MULTI-DIMENSIONAL DISPLAY PORTALS PHASE II
NOW introducing Phase II of my Multi-Dimensional Display Portals. These new Portals are "Cordless"! There isn't always an outlet near where you want to hang a backlit artwork. Cords also detract from the viewing experience. A gallery in which I have an upcoming show, had only one outlet in the space, which forced me to seek a solution. A solution I'd already considered a number of years ago, but the technology wasn't ready, fortunately, now it is.
Powerful new Lithium Ion batteries are now available that can power an LED panel for nearly 12 hours. Combined with a motion sensor this can extend the battery life to weeks. Simply recharge, with the included charger, or swap the battery pack out for a fresh one, for several more weeks of enjoyment.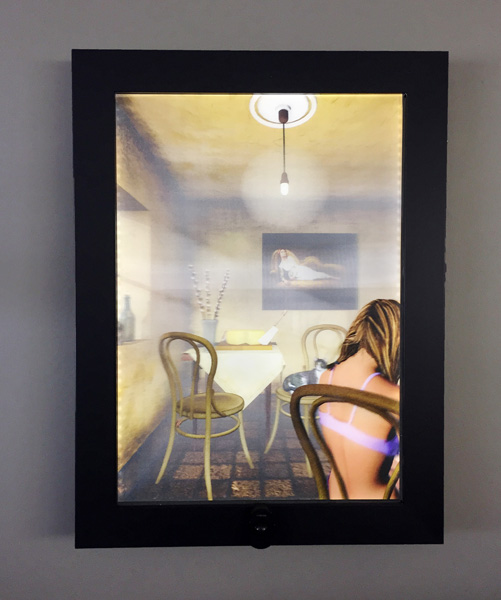 The Display Portals contain a hidden, eight millimeter thin, color correct, LED panel which provides nice even illumination of the transparency. The artwork transparency and the LED panel fit into a wooden floater frame. There is a motion sensor unit mounted to the bottom of the frame which turns on the LED panel when someone is in front of the artwork. A 6000mAh Lithium Ion battery pack powers the unit and a dimmer with remote allows you to adjust the brightness. To further enhance battery life I've designed and 3D printed a plastic part which acts as blinders on the motion sensor, restricting it's wide view dome to just the space in front of the unit.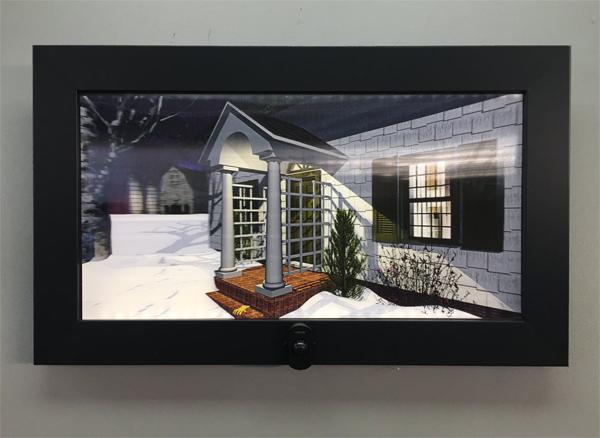 The LED Power Pack is velcroed to the back of the LED panel, so that it can easily be exchanged with a fresh battery. If there is an electric outlet close by the artwork, the onboard battery can be recharged with the included charger. Extra batteries are available.
You'd think this high tech solution would cost me more to produce than the Phase I MDDP's with the acrylic and Corian surround. Quite the opposite, I'm am able to offer the same sizes for 33% less than the old backlit solution.
NEW Lower Prices and New Larger Sizes Available
As a result I've decided to adjust prices downward for my 3D Lenticular artworks based on this lower cost solution. In addition, I"m adding new larger sizes at around the same price point as the original sizes in the Phase I MDDP. Current sizes are: 20" x 10", 20" x 14" & 14" x 20". The new sizes I'm adding are 30" x 15" (2:1), 30" x 21" & 21" x 30". I'm also considering an even larger size at around 44" x 22".
New Pricing for 3D Backlit Artworks
20" x 10" in backlit MDDP II - $1600
20" x 14" in backlit MDDP II - $1825
30" x 15" in backlit MDDP II - $2100
30" x 21" in backlit MDDP II - $2500
44" x 22" in backlit MDDP II - $ TBD
Please contact me directly for purchases until I update the Gallery with the new pricing model.
MULTI-DIMENSIONAL DISPLAY PORTALS PHASE I - (Discontinued)